As the world faces unprecedented fear and uncertainty, the City Government of Davao remains steadfast in empowering and protecting its people in the face of this difficult time, believing that we are stronger together, and acknowledging the vital need to respond and provide for ways to cope with the challenges and concerns during this global pandemic, particularly on the issue of mental health.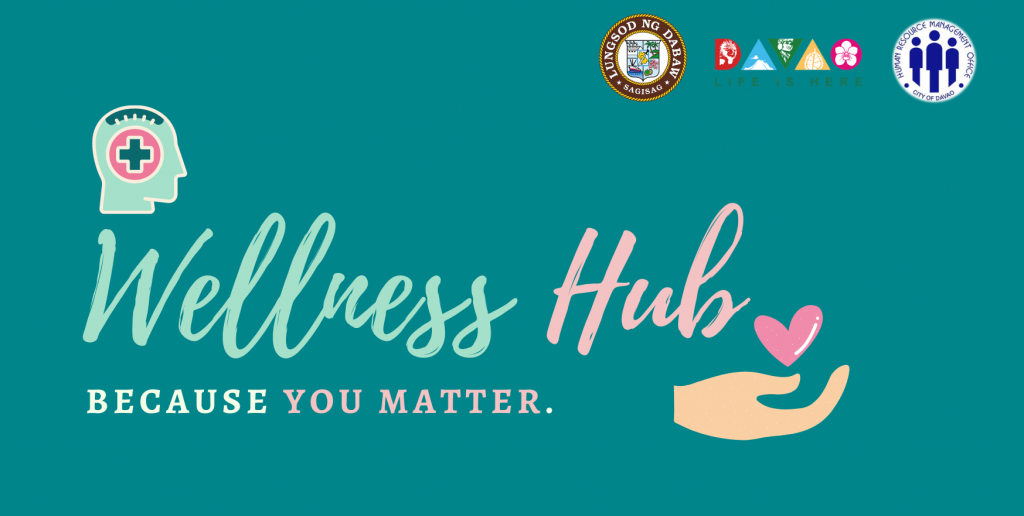 Through meaningful and innovative e-Learning from free online resources, we can provide knowledge and understanding to help each other lead healthier lives. This wellness hub is intended for employees to have access to free self-help online resources and links on mental health as they better understand their wellness journey.
You may find here links on videos, articles, e-modules, research journals and trends, and information about workshops and training that can be requested for the workplace.
Here are some self-help materials that might be useful for you.
The first link leads you to our national COVID Case Tracker from the Department of Health, and the second one provides guided exercise and meditation from the practice of mindful living. 
Listen to this mindfulness exercise audio guides in Cebuano, Tagalog, and English.
This article by Willem Kuyken discusses learning to befriend all moments that place us firmly in the life we are living rather than the ideal life we are prone to imagine or strive towards.
This news article discusses some practical ways on how we can protect our mental health during this global pandemic.
This site provides a list of free online access to Mental Health Services and Psychosocial Support all over the Philippines.
This article, by Jeremy Hunter, talks on how mindfulness can tremendously contribute to improving some work challenges, and how taking time to pause can make or break your workday.
By practicing compassion, we can open the heart to the universality of the human condition with clarity, allowing us to respond to difficulty with balance and care.
In this video are practical tips to achieve better mental health and balance in your life.
The current challenges brought about by COVID-19 for people all around the globe have caused fear, anxiety, and uncertainty for so many of us. It's important to understand you are not alone in how you are feeling right now, and there are practical, healthy ways to help cope with these emotions.
Following the global outbreak of COVID-19, social distancing has become a necessary preventative measure. Many people are experiencing feelings of isolation and loneliness. What can you do to stay connected and healthy? Follow these tips.
Although poor sleep is common, difficulty sleeping can be an indication of insomnia. Sleep issues can be a symptom of a mental health condition or medical condition.
This video is suggesting practical tips for our mental well-being as we face this pandemic.
Recognizing stress and mental health problems is not easy. Employees may take time off for odd reasons, be unproductive or unhappy at work, but the hard part is doing something about it and that is where Mental Health at Work can help managers by training them to start the conversation with a common language and literacy around mental health.
A clear distinction is often made between "mind" and "body" but mental health and physical health should not be thought of as separate. In this video, we will learn the difference and importance of the two concepts.
Practicing mindfulness through meditation or other techniques improves both mental and physical health. Follow this body scan exercise to help improve focus and overall wellbeing.
Learn about both the benefits and disadvantages of social media usage as they relate to mental health – and how you can tweak your online habits to support overall wellbeing.